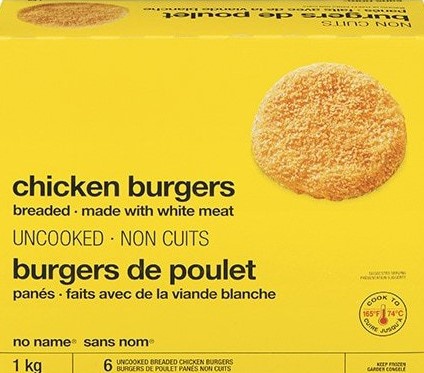 The chicken burgers in question. Photo: Loblaws/Twitter.
Yukon Health and Social Services is joining Canada's national food inspectors in the recall of select No Name brand chicken burgers over Salmonella fears.
Yukon's Chief Medical Officer of Health is encouraging you to check your freezer for No Name brand chicken burgers with a best before date of February 6th, 2019.
Dr. Brendan Hanley says across Canada, and in Yukon, there's been many Salmonella cases linked to the product.
The bad burgers, which were sold in one kilogram packages, were pulled from store shelves in June.
Health and Social Services says symptoms of Salmonella infection start six to 72 hours after consumption, and last for four to seven days.
Symptoms include fever, chills, diarrhea, abdominal cramps, headache, nausea and vomiting.
Hanley says if you come across the burgers in question, to throw them out, or return the package to the store of purchase.
The Canadian Food Inspection Agency has also issued a recall for other parts of the country.