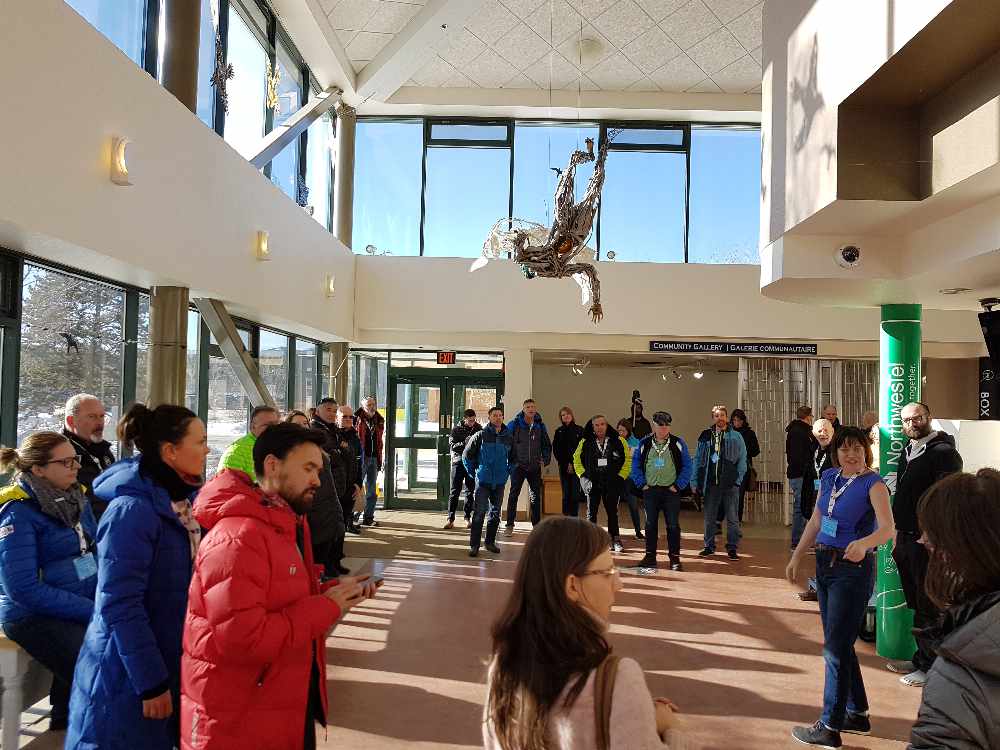 The AWG delegation gets a look at the Yukon Arts Centre Wednesday afternoon. Photo: Tim Kucharuk/CKRW.
With just over a year to go before the 2020 games, the AWG International Committee, and representatives from the jurisdictions involved are checking out the host city.
High-level officials with the Arctic Winter Games are getting a sneak peek at preparations for the Whitehorse games next year.
International Committee Vice-President John Rodda and over 40 committee members, chefs and assistant chef de missions toured facilities and met with the local organizing committee this week.
Rodda says games officials know what they're walking into in Whitehorse.
"This is not the first time that we've been here needless to say last time in 2012, but there's been upgrades to facilities, and new people are involved." Rodda told the RUSH.
"It's an update on what's being offered, what we're going to work with. We always have suggestions, they have different options."
Rodda says officials are checking on what the athletes will experience.
"For the athletes, it's not only just the sport venue itself, it's their accommodation, it's their food service, it's the transportation, it's the little things that make it a memorable experience for them." said Rodda.
"It's the athlete activities, it's entertainment, it's the whole package that you really look at."
The games will be held from March 15th to the 21st, 2020.
Next year marks the 50th anniversary of the games, and it will also be the seventh time the city has hosted.
(AWG International Committee Vice-President John Rodda. Photo: Tim Kucharuk/CKRW)