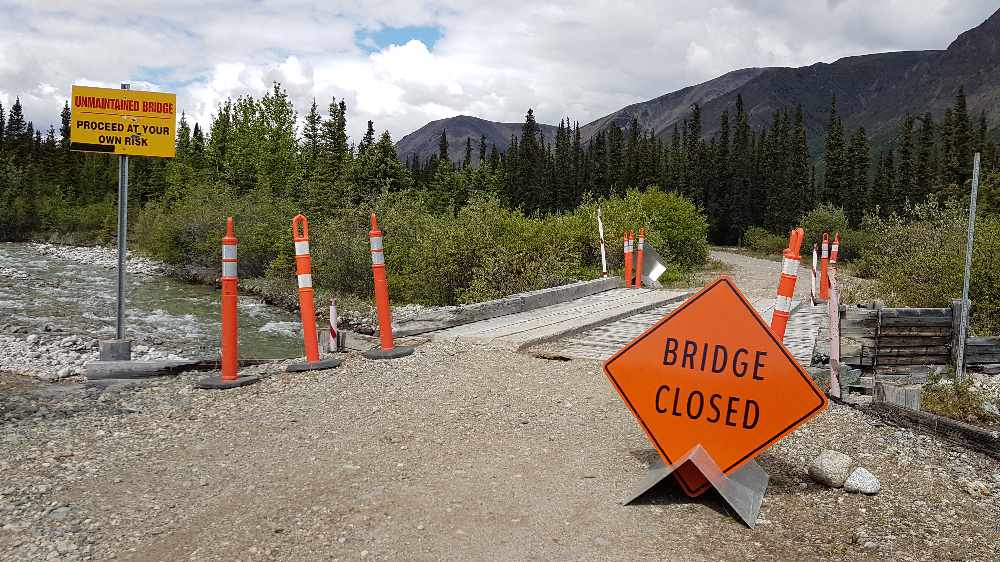 The bridge over Becker Creek on the Annie Lake Road just before more permanent barriers were put in place Monday afternoon. Photo: Tim Kucharuk/CKRW.
Yukon Highways and Public Works says after receiving a concern from the public last week an engineer has determined the bridge at kilometre 37 is no longer safe to use.
Barriers are now blocking an old mining bridge on an unmaintained part of the Annie Lake Road south of Whitehorse.
Highways and Public Works made the decision after an inspection last week found the Becker Creek Bridge had cracks in the foundation, and deck rotting.
Transportation Engineering Director Paul Murchison told media during an onsite visit Monday there are no immediate plans to replace the over 30-year-old wooden structure.
"Currently, there are plans to keep traffic off this bridge," Murchison told reporters in front of the structure. "This is bridge number 3. So we are going to barricade the bridge. There's no formal plans beyond that other than to keep people off the bridge (as a) public protection piece. The fourth bridge (at kilometre 44) has been blocked since 2014."
He said there was no choice due to the bridge's condition.
"In this case, not an option to allow users to continue going over the bridge because of the potential for that bridge to fail," Murchison said. "At this time, through our communications group, just reaching out to people who are considered stakeholders to let them know we are closing the bridge."
Two other bridges on the maintained part of the road are in good shape.
He says the next step would be to remove the two structures but is not sure when that would happen.
As for the replacement cost, Murchison said that would run between $300,000 and $500,000.
Murchison says there are no houses beyond the two bridges. However, there are Carcross/Tagish First Nation traditional values, as well as recreation spots.
A look at the bridge on Annie Lake Road south of #Whitehorse which has now been blocked by #Yukon Highways and Public Works. pic.twitter.com/VAa5nUfEgG

— Tim Kucharuk (@TimKucharuk) June 11, 2019