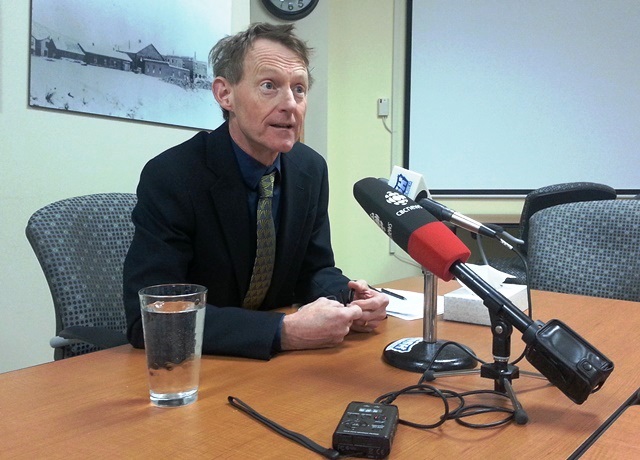 Yukon's Chief Medical Officer of Health, Doctor Brendan Hanley. Photo: CKRW File
A Health Canada and Department of Environment Study into the city's air quality has found high levels of soot particulate as a result of residential wood burning.
An air quality study in Whitehorse, in partnership with Health Canada and the Department of Environment, has found four neighbourhoods have higher levels of air pollution due to residential wood smoke.
Riverdale, Kopper King, Hidden Valley, and Takhini Trailer Park had higher levels of soot particulate in the air compared to other neighbourhoods, especially during the winter, and Yukon's Chief Medical Officer of Health Doctor Brendan Hanley says the levels are linked to wood burning.
"Really, there are two main pollutants of concern here. There's winter wood smoke and then there's summer wildfire smoke and it doesn't mean to say there aren't other pollutants of course. There's traffic related pollution which is a mix of contaminants but really, the ones that we know cause the greatest concerns, are those particulate."
Constant exposure to the smoke can irritate lungs and airways, cause asthma attacks, and worsen chronic lung conditions or heart disease but Hanley says the risks can be reduced by burning clean fuel.
"Making sure that you have a modern, up-to-date, EPA approved or equivalent stove so that the stove itself can burn well and burning dry, seasoned firewood, and starting your fire right and burning your fire right. So one thing that I've learned in this process is that you need to burn your fire hot. If you leave it smouldering, if you close down the damper, you're going to have much less efficient burning."
Hanley says the department is also looking at the impacts of wood smoke as a result of summer fires.