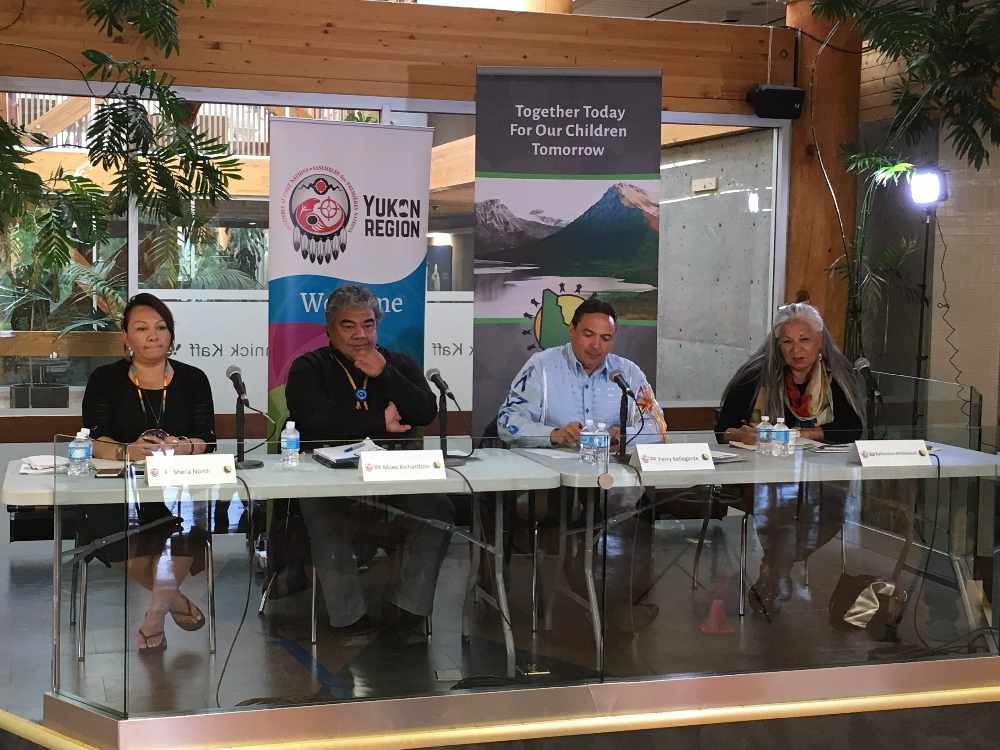 Left to right; National Chief Candidates Sheila North, Miles Richardson, Incumbent Chief Perry Bellegarde, and Katherine Whitecloud. Photo: Oshea Jephson/CKRW
Four of five candidates for the Assembly of First Nations job took questions from Yukon First nations both in-person and online.
Four candidates running for the position of National Chief with the Assembly of First Nations are outlining their plans to work with Yukoners.
During a forum at the Yukon College Tuesday, the candidates were pressed on a variety of issues facing Yukon First Nations including food security, the loss of language, education outcomes, and the Inquiry into Missing and Murdered Indigenous Women and Girls.
In his opening remarks, BC's Miles Richardson addressed the need for respect from the federal government.
"We all face one similar obstacle, a crown in this country who doesn't recognize who we are and we need to stand up together and this is the last piece, I believe."
Incumbent Chief Perry Bellegarde spoke about his experience, and the challenges faced by chiefs at the community level.
"Your phone doesn't stop ringing 24 hours a day from your membership for housing, and education, and healthcare, and justice and I always say to the Chiefs, your many tasks, you're plumbers, you're carpenters, you're taxi drivers and counselors, and banks."
Manitoba's Katherine Whitecloud spoke about education and says youth need to be exposed to their culture long before they reach a formal education system.
"Our children deserve to be educated in our language and in our ways or else we are fast-tracking assimilation if we don't do something about that, if we don't teach them the original laws, the original language, the original ways of living."
Sheila North, also of Manitoba, pointed to the need to stand together when dealing with the federal government.
"They seek ot divide sometimes and sometimes they do it intentionally. Sometimes they don't, but I think the diversity should be celebrated and that's one of the things I want to be able to bring."
Elections are scheduled to take place during the AFN's Annual General Assembly in Vancouver July 25th.