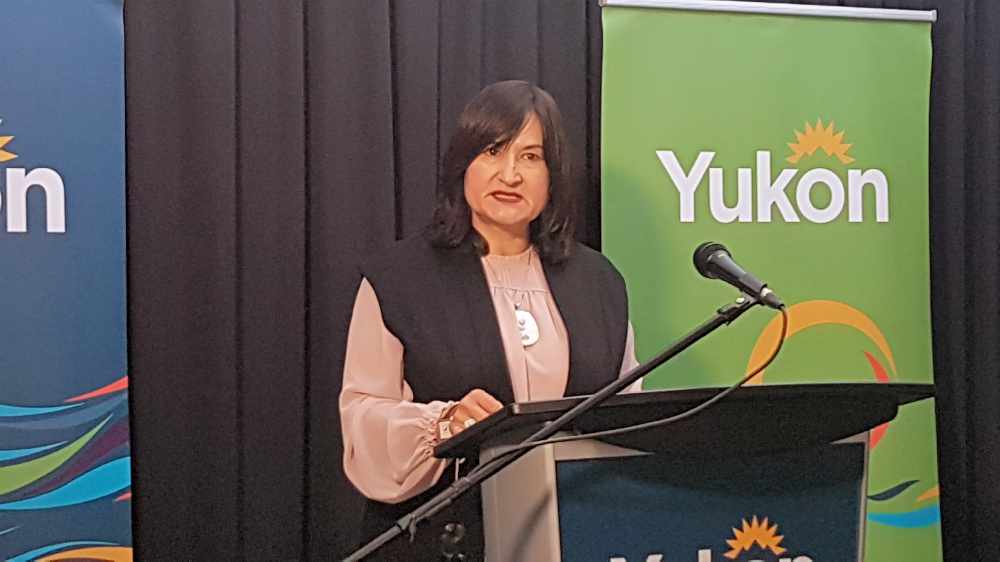 Minister Pauline Frost updates reporters on the status of youth group homes Wednesday afternoon. Photo: Tim Kucharuk/CKRW.
Health and Social Services says a closer look at individual files, and policies and procedures is needed as the department continues to be scrutinized over alleged wrongdoings.
Yukon Health and Social Services is bringing in an advisor to the deputy minister, and external investigator from B.C. to look at the territory's youth group homes.
Minister Pauline Frost told reporters at a Thursday afternoon press conference, the advisor will look at all files of youth currently living in group homes to make sure all proper policies and procedures have been followed, and the investigator will review allegations on specific past incidents.
"What we have before is today, is new information and the new information will set us in motion to address the current situation, and the current situation determines that we have some new information." Frost said.
"We have brought in an external investigator and special advisor to allow that due process to take effect."
Frost concedes we're all frustrated at the situation, and it's a concern proper information was not brought forward to her office.
"What had happened historically to bring us to this place of uncertainty, we're allowing the investigators to do their good work and provide us with the guidance and the advice as to why policies and practice perhaps had not been adhered to." Frost said.
"At this point I can't really say for certain until that is substantiated."
The announcement comes after a CBC Yukon report which cites government emails saying some youth had been turned away or kicked out from group homes, when last month, department officials were adamant that was not happening.