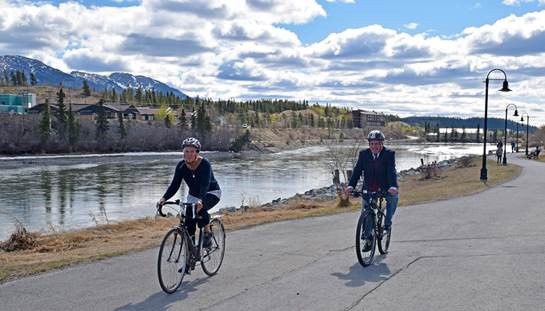 Whitehorse City Manager Linda Rapp and Mayor Dan Curtis biking to work. (City of Whitehorse)
City council could soon adopt a guiding document to improve cycling access and safety within Whitehorse.
The city of Whitehorse is considering a master plan to address cycling rules and infrastructure.
During Monday's city council meeting, administration presented city council with the Bicycle Network Plan which aims to increase cyclist rates and ease congestion.
Several projects have been listed in the plan but Environmental Coordinator Sabine Schweiger says there are some priorities.
"The Hamilton Boulevard, all the trail connections, wherever it crosses roadways, trying to find the connection between Two Mile Hill and the waterfront and the project coming out of Riverdale, putting in a cycle track all the way to Lowe Street. We haven't prioritized any other major projects."
Schweiger says increased cycling only comes with increased investment.
"We have a target of doubling our cycling rates from three percent to six percent, and designating cycling routes with appropriate cycling infrastructure is really recommended as the keystone to actually get that to happen."
Schweiger says that infrastructure could include bike lanes throughout the city protected by bollards and raised gradients, as well as bicycle boulevards through low-traffic neighbourhoods in the city to improve access.