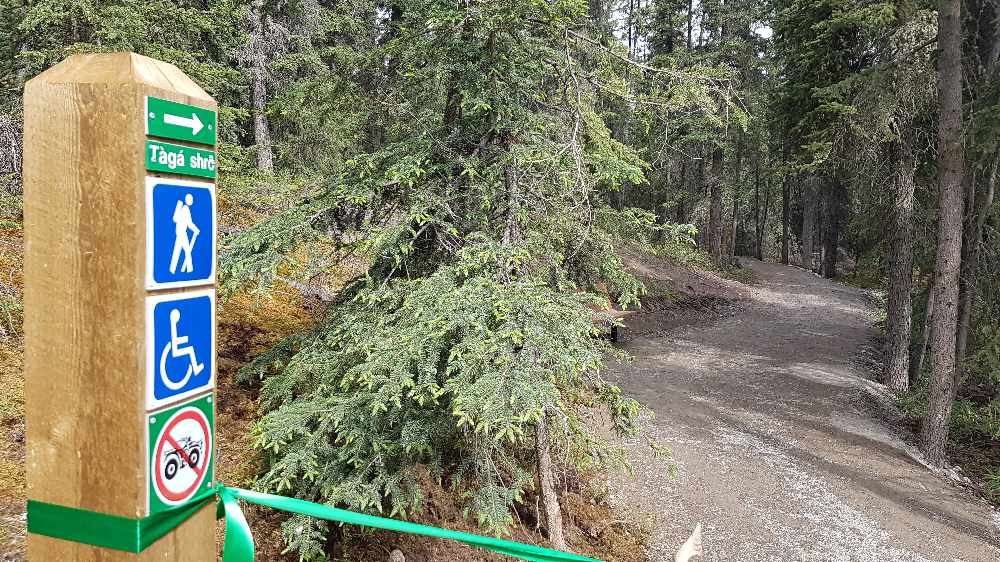 The trail begins at the west end of the campground, and features interpretive signs in three languages. Photo: Tim Kucharuk/CKRW.
The second specialized trail in the Yukon Parks system is ready for use at Wolf Creek Campground which takes users to the Yukon River.
A new wheelchair accessible trail is now open at the Wolf Creek Campground in Whitehorse.
The Tän Tágà Shro or "trail (to the) big river" takes everyone including those with mobility issues from the edge of the campground to a lookout on the Yukon River. The path features signs and markings in English, French, and Southern Tutchone.
Parks Interpretive Planner Sara Nielsen with Yukon Parks says about 50 people worked on the project.
"Carpenters to sign makers to graphic designers to trail planners and builders, to language specialists, French and Southern Tutchone translators," Nielsen told the crowd. "Archeologists and biologists everyone just jumped in because it's the feel-good thing to do. We know it's the right thing to do."
The trail was built by youth with the Single Track to Success program, with extreme wheelchair athlete Darryl Tait as a consultant.
Tait says the trail is huge for those with mobility issues, and the entire community.
"For elders, having a nice level ground (and) no tripping hazards," Tait said as he wheeled along the trail. "To visually impaired or the blind, we have guards on some of the steeper parts where there are beams so you can't go off course. We have rest areas, and picnic benches at the end where you can enjoy the view and take in the environment."
This is the second such trail in the Yukon Parks system after the Beaver Pond trail in Tombstone Territorial Park. Another is planned for the Pine Lake campground near Haines Junction.
The Canadian Northern Economic Development Agency provided $55,000 for both the Wolf Creek and Pine Lake trails.
The Tän Tágà Shro trail at the Wolf Creek Campground in #Whitehorse is open. The wheelchair accessible trail leads from the campground to the #Yukon River. pic.twitter.com/t6tJn4glbF

— Tim Kucharuk (@TimKucharuk) June 6, 2019